The "Add-on" Family Vacation – Logistics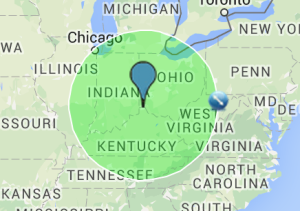 Vacations are sometimes born out of necessity – we're going to a family reunion, a wedding, to visit family etc., and you want to add on a few days in order to turn a trip into a family vacation. These vacations can often seem like an after-the-fact add ons, but they don't have to. Take a family wedding on a weekend in Cincinnati, Ohio (our situation) as an example – I drew a 250 mile radius around Cincinnati, and bingo – we had our choices. My wife and I love Chicago, and we had commented (when traveling there without kids) that we would love to take the family to Chicago, and so we had our vacation destination nailed down.
Transport (the trip)
So, a 900 mile trip is often easiest to take in a plane, but the ROI of buying plane tickets for six of us (that's how many we have in our family) wasn't there. We have taken a family trip with airline miles (coast to coast), but we didn't have enough for this trip, so it was a road trip for us this time. Our approach for this trip was to travel over two days, pushing as hard as we could in day number one, and to take it easy on day two (our arrival day).
Making 900 Miles Bearable
Back in the days before seatbelt laws, kids were left to move freely in the car on a long trip – but this isn't the case any longer. I am grateful for seatbelt laws, but I am also grateful for iPads and portable DVD players. Get your "in-flight" entertainment ready before you leave. One other trick for such a long trip is to make a Spotify playlist (I called mine "Roadtrip"), and make it long. With 160 songs lined up, everyone in our family enjoyed the music; if you didn't like what was playing, you were sure to enjoy the next. I included everything from Paul Simon to One Direction, and then put the mix on shuffle (playing it through the bluetooth on the car stereo).
We scoped out Indianapolis as our stopping point (13 hours from home), and found a few earlier stopping points that we could fall back to if the push to Indy seemed impossible.
Accommodations
I try to use hotel points when traveling, but there's a catch. Hotels in large cities often require many more points than your have, and they tend to be small. This is where a loyalty card for your hotel brand of choice comes into play – mine (from Hyatt) has several suite upgrades (for the length of your stay) that are awarded annually. So, I booked the AAA rate on a room at the Hyatt Regency Chicago, applied my suite upgrade award, and we had a suitable launching point for a week in Chicago.

The Hyatt Regency was our choice for several reasons. First, I think Hyatt has the best program for loyal customers, but the hotel was centrally located in the city – right on the river, at the end of the Magnificent Mile and just a few blocks from Millennium Park and the lake. If you aren't a loyal Hyatt customer, then take your pick of the hotels around this spot. The other bonus was the presence of the concierge lounge in the Hyatt Regency that isn't available in a not-full-service property. If you are a Diamond member at Hyatt (or buy a club level room), you can eat breakfast in the morning and light hors d'oeuvres in the evening, leaving the mid-day meal as your splurge each day. Club access also leaves you with a place for refreshments (fruit and drinks) throughout the day.
What to Do Once you Arrive
Here's where the rubber meets the road on the well planned family vacation – you have to know what you want to do once you get to your destination, otherwise you will be left with a lot of wandering and probably less than enjoyable experiences all for the sake of filling up your days with "something." Do your planning ahead of time, know what you want to do (and what you don't want to do), and then start creating memories.
I'll show you just what we did on our trip in my next post.