Building a Startup? – Be Prepared to Get Dirty
I slept in dirt, wiped plenty of dirt off my face and probably ate my fair share of dirt for the better part of 2011. What I never envisioned was how much all of this dirt from four years ago would help me through the first year of building a startup. Let me explain.
Investing in a Pig Sty
It all started in the spring of 2010, when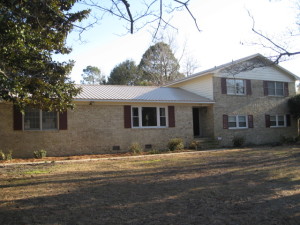 my wife and I (visiting coastal North Carolina from New York) stopped by an open house for a home listed $100,000 below tax value. The location was prime, and we had already suffered a loss during a bidding war on a home just down the road.
We walked in, and everything about it said, "Run! This place is inhabited by zombies!" There were stains in the carpet that would surely attract feral cats, and the owner must have smoked a pack of cigarettes an hour (we can paint that out, can't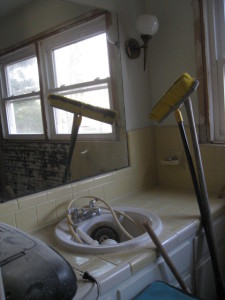 we?). It was probably the most unsightly house on the road. Neighbors confessed to us later that they made a game of crafting crazy tales about this creepy house, and why it was this way. Did I mention that the house was inhabited?
Since we exhibited a high tolerance for cobwebs, cat-urine, avocado-green-bathroom-tile and nicotine stained walls, we did the logical thing, and placed an offer on the house – above asking price at that! And this is when the startup training began.
Understanding the Landscape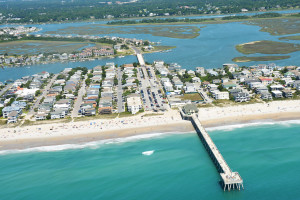 Before we honed in the Olfactory Wonderland that became our house, I did some research. The nicest part of our new city was the beach where home (and even condo) prices ran seven figures. But there was a community just minutes away, behind the best shopping, 10 minutes from the historic downtown and a 30 minute bike ride to the beach. The houses were new in 1970, and the original owners were beginning to sell and move out. It was paradise for anyone who loved bland ranch style homes or uninspired split-levels. I knew, contrary to local wisdom, that this undesirable and uninspiring neighborhood would not remain that way for long. The house wasn't in the sexy spot, but I knew that some day it would be, and I was willing to jump at the opportunity while others thumbed their noses.
1. In Startup Land, you need to understand your industry with good grasp on "what is" and "where things are headed." Be willing to dive into a not-so-sexy field while everyone else is chasing unicorns in crowded fields.
Setting a Vision
As if our house being the humblest on the street wasn't enough, we believed that (with some work) it could be the nicest on the street with some hard work.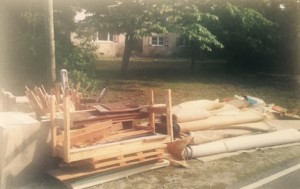 Notice that I didn't say, "a little work," but rather, "some hard work." Believe me – I didn't know how hard the job was going to be, but I understood that to see our vision through, we were going to need to buckle down and work hard. Did I mention that I was just coming out of grad school, and had little in savings?
We started by washing the nicotine stained walls with vinegar, and adding layers of paint to every paint-able surface in the house. We gutted the house. From there it was flooring, and then the bathrooms (only one functioned) until we had a clean place to live while we launched the rest of our vision. We knew where we wanted to go, but we weren't quite sure how to get there. We simply started with the obvious first steps.
2. In Startup Land, you have to be laser focused on what you are trying to build, but willing to do the task in front of you in order to get to the end.
Have Traction, Build the Product
There cam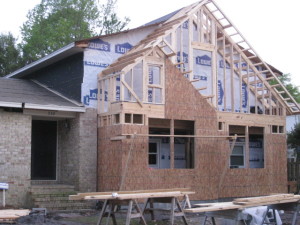 e a point in the process where we started to think bigger. This is when we brought in the experts.
I went straight for the best residential architect in town (most of his projects were way out of my league), conveyed my vision (a beautiful craftsman style home in keeping with local, historic standards), told him my budget (he only laughed a little before saying, "I like a challenge!"), had him draft the plans and then I called in the reinforcements.
I had a $300,000 vision (really), and about one-third of that to work with. Plans in hand, I called up the carpenter who installed my flooring, and asked, "Did you mean that when you said that you also build houses?" Within a few weeks, I pulled the permits (in my name), and my carpenter was pulling brick off the front of my house. Then, the heavy equipment arrived (I'll add, gratuitously, that the father of Kelly Pickler, of American Idol fame, was our backhoe operator for a few days.)
3. In Startup Land, you need to get creative with the execution of your vision, and then push forward relentlessly. Explore all possibilities along the way to building the best product in the world.
Be Willing to Get Dirty
I will never forget that evening when a new neighbor pulled into the driveway in his pimped-out golf cart, bobble-headed hula-girl and a can of beer proudly displayed on the dashboard. "I've done some construction projects in the past, and was interested in what you have going on here," he said.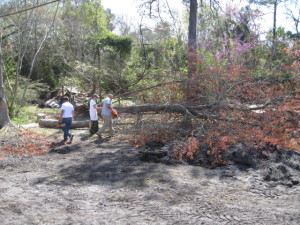 After the 15 minute tour, he noted how impressed he was, and I said I needed to head in for the evening. "You are living here during this?" he said with a look that bordered on, "you are nuts," and "holy smokes!"
There was more affirmation along the way. Remember the seven figure homes on the beach? Well, one of the builders of those homes stopped by to marvel at the transformation. "I drive by here, and remember what you started with. This is absolutely incredible, and I could have never envisioned this," he said.
But it was a messy process. There was so much dirt and construction debris around that any sane person who was accustomed to typical, western comforts would have given up and fled. However, I had a vision to execute (and also a family that was willing to suffer through my many schemes). This was just part of the job.
4. In Startup Land, there are no creature comforts during the execution phase. You must be willing to push through, and endure all sorts of dirt in order to build the final product.
Wait for it … !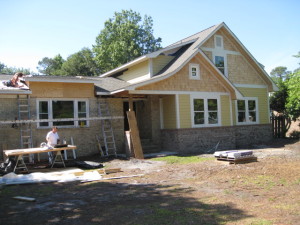 After six months of building, the product was done. And it was a sight to behold – exactly what I had envisioned (actually better). But there were still issues. We tore up any hint of grass, and there was no money left for sod and irrigation – so we seeded, and watered with an intricate system of hoses and old-fashioned sprinklers. Somehow, that dirt in the yard made it into our house (magically, through closed windows), into our air ducts and I am certain, into our food and lungs.
The meth-lab-looking sheds in the back yard were unsightly, but in time, eager Craigslist-Scouring-People-With-Nothing-Better-To-Do disassembled and hauled them off. And now, over three years later, there is some of the thickest, greenest grass you could imagine surrounding the home that we labored so hard to build.
5. In Startup Land, there is a time between product and realized vision, and you simply need to press through with the same level of determination.
Ahead of the Game …
And, what do you know, the copycats followed. There are hundreds of homes in my neighborhood, and there were no sign of revitalization in 2010 when we bought the pig sty of a house. Today, houses are being purchased and transformed into modern and inspiring homes. They entered the game after the risk, but without all of the rewards that came from the process of seeing what could be, and making it happen.
---
… and here's a quick look at some other houses just down the road that (I would like to think) are just copycats of the original. All of these are transformations of houses from a bygone era.