With a career that spans several decades in technology, information security, healthcare, project management and management consulting, Peter has a wealth of information that he loves to share with others. You can read what Peter writes in his books and on his blog.
---
The Entrepreneurial Manifesto …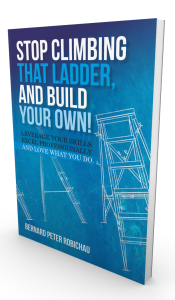 Stop Climbing That Ladder, and Build Your Own! Leverage your skills, excel professionally and love what you do.
This book encapsulates Peter's thoughts on opportunity, entrepreneurial endeavors and professional excellence. He walks the reader through a review of the modern corporate world (and how this affects each of us specifically), the obstacles that most employees have to overcome in order to advance up the "corporate ladder," how to leverage the modern workplace to become an A-player and how to make the move toward professional independence and meaningful work for the rest of your life.
Are you simply tolerating your work? If so, you will spend your life counting the hours (or minutes!) until your next holiday, vacation or retirement – this is simply no way to live! Do what you love, and you won't ever want to retire.
You can purchase this book on Amazon if you wish, but you can have a copy for free if you join Peter's mailing list. Not only will you get a copy of his book just for subscribing to the list, but you will also join a community of people who care about work, life and everything in between.
Stop Climbing That Ladder, and Build Your Own! is chock full of useful advice for anyone who is looking to do more than just earn a paycheck. Read it, and you will have a process in place to help you asses your current situation and to plan for a future that is brighter than you could have ever imagined.
---
Health Data Privacy and Security …
Peter's first book, Healthcare Information Privacy and Security: Regulatory Compliance and Data Security in an Age of Electronic Hea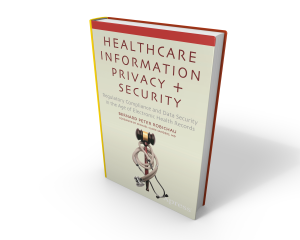 lth Records, was published by Apress/Springer Media in the summer of 2014, and sets out a basic history of digital health records, followed by a process that has now been used in countless health systems across the country to implement electronic medical record systems in a secure manner.
Peter's career has focused on Information Technology, with an emphasis on Information Privacy and Security, where Peter holds the industry's highest credentials (CISSP). He considers the task of securing private patient information – your health data and mine – as a very important task that is generally not tended to with the care that it deserves..
Peter is an expert and industry thought leader in the field of health data privacy and security, and has been cited in multiple media outlets speaking on the topic. As Dr. Michael Sanders, Chief Medical Information Officer at Flagler Hospital in St. Augustine, Florida says,
What Peter Robichau has given you in this marvelous book is not only a great plan for the organization of EMR security, but also a mindset to approach the data and its care. Follow its principles, and your organization will sleep well at night. Ignore some steps, and your organization and your organization risks great peril and embarrassment, as well as financial punishment.
If you are interested in the topic of health data privacy and security, or if you are involved in the implementation or management of a digital medical record system, this is a book that you will want to have on your shelf.  It can be ordered directly from the publisher, from any major bookseller, and by clicking on this link.
---
The Story Guide …
Story Guide: Lessons from the Masters: Peter realized that the mode of communication has a profound impact on delivery – what might work in one venue might be entirely inappropriate in another. Changing channels from print to audio means changing the approach to storytelling, but the goal of all storytelling remains the same – to engage and impact. Peter's goal is to capture the methods of leading story-tellers. The end result of The Story Guide Project will be a body of knowledge that can instruct and inspire generations of storytellers for years to come.
It is Peter's hope that the collective wisdom of the guides we meet along the way will be captured on video and audio recordings, their interviews transcribed and ultimately compiled into a companion book that can be shared with the world. This publication will be the definitive guide for anyone who has a message to convey, and wants to do so effectively.